How to pay the bill is last major hurdle to healthcare reform
Organized labor pressed Congress and the White House to ease the 'Cadillac tax' on expensive healthcare insurance policies. This means other ways to pay for a healthcare reform bill will have to be considered – including hospitals, the pharmaceutical industry, and Medicare.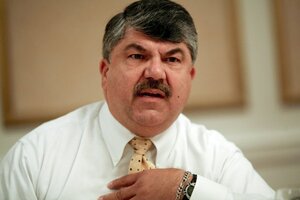 Michael Bonfigli/Special to The Christian Science Monitor/file
President Obama and Democratic congressional leaders are close – oh so close – to a final deal on healthcare reform. But even at this late hour they must still figure out how they are going to pay for the legislation.
That is because they blew a $60 billion hole in their budget Thursday by paring back a tax on high-cost insurance plans due to pressure from unions.
Negotiators must replace that lost revenue if the healthcare effort is to remain deficit-neutral. Among the sources of cash they may turn to are more fees on hospitals and the pharmaceutical industry – and, possibly, higher Medicare payroll taxes.
Decisions could be made, and the bill sent to the Congressional Budget Office for a cost estimate, as early as Friday. House and Senate Democratic leaders were set to join Mr. Obama for another session on the subject Friday afternoon.
'Nothing's finished until everything is finished'
"I feel pretty comfortable for where we are at this point," said House Speaker Nancy Pelosi on Friday. But "nothing's finished until everything is finished."
The so-called Cadillac tax on expensive health insurance policies was the largest source of revenue in the Senate's version of healthcare reform legislation.
Given that the bill in essence cleared the Senate by just one vote, most observers say the House will acquiesce to the inclusion of the Cadillac tax in the final version of legislation.
Unions, however, have objected strenuously to this provision. Many have negotiated relatively generous health packages for their members over the years. By some estimates, the Cadillac tax would have affected 1 in 4 union members.
---