Coakley concedes race: five lessons from her campaign
As Martha Coakley concedes the Massachusetts Senate race to Scott Brown, political analysts are already drawing lessons for the midterm elections later this year.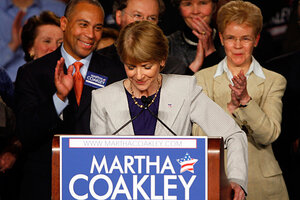 Brian Snyder/Reuters
Scott Brown went from long-shot candidate to the next senator from Massachusetts Tuesday – a feat that a Republican candidate has not accomplished in this state since 1972.
Martha Coakley – the heavy favorite coming out of the Dec. 8 primary – could not hang on to the seat that Edward Kennedy occupied for 47 years, maintain the Democrats' 60-seat supermajority in Congress, or stem the flow of voters to Mr. Brown's camp.
Ms. Coakley's disappointments are to likely inform both Democratic and Republican strategies for the midterm elections later this year. As Brown said in his acceptance speech: "What happened in this election can happen all over America."
With midterms already approaching, what lessons can be drawn from Coakley's campaign?
1. Playing it safe can be risky
"Sometimes, the biggest risk you can take in politics is not to take a risk," Todd Domke, a Massachusetts-based GOP strategist, said about Coakley's campaign strategy prior to Tuesday's election.
---