With Scott Brown's election, healthcare ball in Pelosi's court
Speaker Nancy Pelosi says the House would not approve the Senate-passed bill. But Scott Brown's vote might make it impossible to get a House-modified bill back through the Senate.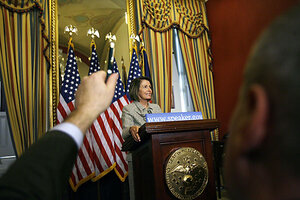 Jose Luis Magana/AP
Two days after the Massachusetts miracle that gave Republicans their 41st vote in the Senate, Democrats are in intense negotiations – mainly within their own ranks – over how to move forward on healthcare reform.
For much of the debate, the focus has been on Senate majority leader Harry Reid, who personally negotiated the deals to win over the critical 60th vote in the Senate. But with Republican Scott Brown's victory, the heavy lifting on healthcare shifts back to House Speaker Nancy Pelosi: Can she win over enough Democratic votes in the House to pass the Senate's version of the bill?
After meeting with the House Democratic caucus today, Speaker Pelosi told reporters that she does not see the votes to pass the Senate bill.
"Without any change, I don't think it is possible to pass the Senate bill in the House," she said at a briefing today.
Healthcare fast track derailed
That vote count – by a Speaker noted for being good at it – derails what had been the fastest track to moving healthcare through the Congress. Passing the Senate bill as written avoids further action in the Senate, where Democrats no longer have the 60 votes needed to block a Republican filibuster.
---