Can Obama get his mojo back?
By reordering his message to focus on jobs ahead of this week's State of the Union address, President Obama hopes to regain lost momentum. But he's not giving up on healthcare reform.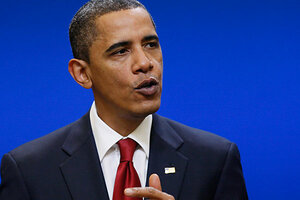 Charles Dharapak/AP
On the eve of President Obama's first State of the Union address, Democrats are asking: Can he get his mojo back?
The improbable Democratic loss of the Massachusetts Senate seat last week has sent the party into paroxysms of self-doubt. The White House didn't see Massachusetts coming and has turned to 2008 campaign mastermind David Plouffe to ramp up his role in party strategy for the fall midterms. Healthcare reform hangs in the balance.
Senior political adviser David Axelrod told Politico that the president will show a "feisty" side in his speech Wednesday night, but that there's no need to reinvent his message.
There is, however, likely to be a reordering of his message. Forget the usual laundry list of initiatives, a State of the Union staple. Mr. Obama is expected to use his time before a joint session of Congress – and American TV viewers – emphasizing that he hears the public's concerns about jobs and the economy and is on the case.
Obama's new message
On Monday, Obama unveiled five initiatives aimed at helping the middle class – from a doubling of the child tax credit to support for families caring for elderly relatives.
Does the turn toward the economy spell the end of an unpopular healthcare reform? Not at all. In his remarks announcing the initiatives of the Middle Class Task Force, Obama laid out what is expected to be a central theme of his State of the Union: that healthcare, energy, and financial reform all fit under the larger umbrella of economic revival and job creation.
---