Five things to look for in Obama State of the Union address
President Obama delivers his State of the Union address at a political low point. He needs to buck up his party and soothe a frustrated electorate. Will he adopt his new fighting persona? Will anyone heckle him?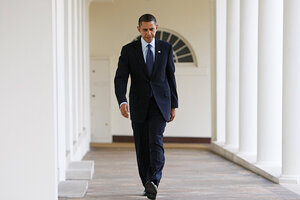 Charles Dharapak/AP
Barack Obama delivers his first State of the Union address Wednesday night at a low point in his presidency.
His signature domestic initiative, healthcare reform, is in limbo at best. Unemployment remains stubbornly high. And his Democratic majority in Congress sits dispirited after seeing a Republican snatch the seat of the late Sen. Edward Kennedy.
President Obama faces a multifold task: to buck up his own party, lay out a renewed policy agenda, and reassure an increasingly angry and frustrated American people. Here are five points to watch for as he delivers his speech (at 9 p.m. Eastern time).
1. How many times Obama uses the word "fight." At a town hall last Friday in Ohio, he used the word 20 times – much of the time variations on "I won't stop fighting for you." His newly pugilistic rhetoric comes amid a rise in populism among voters, after a year in which many felt he was doing more for Wall Street than Main Street.
All the fight talk is a way of saying, "I hear you." It also raises the expectation that he will be tougher in asserting himself with Congress. Part of the one-year assessment of Obama's presidency is that no one is afraid of him. He lays down deadlines that are ignored. He can be vague about what he really wants. So if he doesn't match his new rhetoric with actions, he could erode the goodwill that he has.
---