What Wall Street wants from Obama in State of the Union address
President Obama has responded to recent setbacks by striking a more populist tone, and his primary target has been Wall Street. Bankers are hoping he takes a more inclusive line in his State of the Union address Wednesday.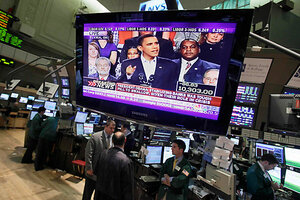 Richard Drew/AP
Wall Street has its own wish list of what it would like President Obama to say in his State of the Union address Wednesday night. A good portion of it, however, may not go down well at the White House.
If it were up to Wall Street, the president would strike a less confrontational posture toward the finance industry than what they've seen lately. Many would prefer that he unveil only a modest jobs stimulus package in the 2011 budget. And, although many market commentators expect some kind of tax hike on capital gains and dividends, they think any tax hike is a bad idea while the economy is still recovering from recession.
On the top of their wish list is a kinder, gentler tone.
Some Wall Street executives have cringed as Mr. Obama has adopted a more populist rhetoric. He has recently attacked Wall Street for its greed and bonuses, and he said he's ready to "fight" bankers if they oppose a new tax he wants to impose on their industry.
Since the president has donned his boxing gloves, the stock market has had a tough time, falling about 5 percent.
"It suggested [that] the president is confrontational with business," says Jeffrey Kleintop, chief market strategist at LPL Financial in Boston. "A tone that says he is open to working together, to bring the best minds together, would be welcome."
Anger in the pinstripe set
---