Obama to America (and Congress): Yes, we still can
President Obama, in his State of the Union address Wednesday, showed little inclination to downscale his ambitious agenda and, strikingly, devoted a fair bit of his speech to the need to change the partisan tone in Washington.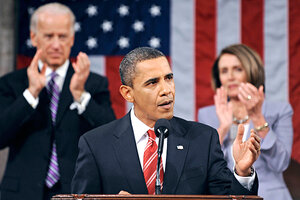 Tim Sloan/Reuters
Most presidents want to forget about the campaign promises that don't exactly work out. And they certainly don't make them a central feature of the State of the Union address.
Indeed, on Wednesday night President Obama did not mention the Guantánamo Bay detention camp, a symbol of the US approach to the war on terror that damaged America's global image and which he had pledged to close by this month. At this point, no one knows when Guantánamo will close.
But strikingly, Mr. Obama did devote a significant portion of his first State of the Union speech to his campaign promise to launch a postpartisan era in Washington. That pledge crumbled as the new president, bolstered by large Democratic majorities in Congress and facing a recalcitrant Republican minority, sought to enact an ambitious agenda.
Let's try again, Obama essentially said, amid his larger message that jobs and the economy are his top priority.
"I will not give up on trying to change the tone of our politics," Obama said. "I know it's an election year. And after last week, it's clear that campaign fever has come even earlier than usual. But we still need to govern. "
---