Big hurdles to Obama's $33 billion in tax cuts for businesses
Republican lawmakers usually back tax cuts for businesses, but the $33 billion price tag of Obama's proposal may deter those who are more worried about runaway deficits.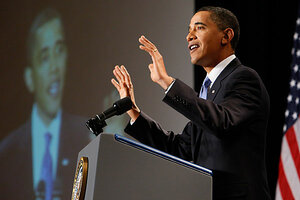 Charles Dharapak/AP
President Obama proposed a new tax credit to spur job creation Friday, and reached out for Republican congressional support to approve it.
The $5,000-incentive-for-each-new-employee-hired plan faces big hurdles, however.
The first challenge will be to win support in an election year, with Republican opposition emboldened by the recent win of a Massachusetts seat in the US Senate. The GOP takeover of that seat has made it harder for Obama-backed proposals to pass.
Second, if the plan becomes law it may give only a modest lift to job creation at a time when the economy desperately needs to boost employment.
Under the president's plan, employers would get a $5,000 tax credit for each employee they hire in 2010 (on a net basis, so businesses can't fire one person and reap a credit by hiring another).
Also, small businesses that increase wages or hours for their existing employees will be reimbursed for the resulting rise in their Social Security payroll taxes. This could help boost the economy by raising incomes – and it could prevent employers from "gaming the system" by hiring more people but having them work shorter hours.
It's a tax cut. What's not to like?
Mr. Obama, making his pitch Friday at a meeting of House Republicans in Baltimore, touted the idea as a policy on which the two major political parties can work together to lift the economy.
---