In fight for Illinois Senate seat, both sides already dealing blows
The Illinois Senate seat formerly held by Barack Obama stands a decent chance of going to a Republican, analysts say. Primary voters on Tuesday selected Rep. Mark Kirk (R) to vie against state Treasurer Alexi Giannoulias (D).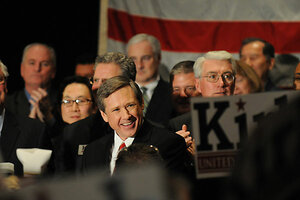 Lois Bernstein / AP
The stage is set for a fierce battle over Barack Obama's old Senate seat.
Rep. Mark Kirk, a moderate Republican, won Illinois's primary Tuesday in the Senate race. He is hoping to reenact Scott Brown's victory in Massachusetts and take the seat from Democrats in November.
His opponent is Alexi Giannoulias, the Illinois treasurer and a friend of Mr. Obama, who beat back a growing challenge from David Hoffman.
While a number of states, including Nevada, Delaware, and Arkansas, show potential for shifting the Senate landscape and ceding seats to Republicans, Illinois's race is particularly personal for the White House.
The seat is currently held by Roland Burris (D), who took office after Obama vacated the seat to become president. Mr. Burris's appointment by ex-Gov. Rod Blagojevich (D) was mired in controversy.
---