Illinois primary: how the Scott Brown win has changed strategies
Illinois has been a reliably Democratic state, but the Scott Brown victory in Massachusetts has changed political assumptions.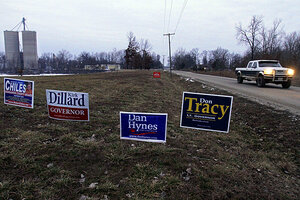 Seth Perlman/AP
Scott Brown's unexpected capture of the Senate seat held for almost 50 years by Edward Kennedy sent tremors throughout the United States. And nowhere is this being felt more right now than in Illinois, which holds primary elections Tuesday for one of its US Senate seats, as well as for governor.
As in Massachusetts, Democrats in Illinois have essentially been guaranteed victory in most races for years. But the Brown victory has thrown such guarantees into question, and the new political landscape in Illinois is prompting both Democrats and Republicans to alter their strategies. This is especially true in the Senate race, which will determine the successor to Sen. Roland Burris. Mr. Burris filled the seat vacated by Barack Obama and served half a term under a shroud of controversy.
"The Democrats are waking up to threat on the other side of the aisle," says David Morrison, deputy director of the Illinois Campaign for Political Reform. "Republicans have nowhere to go but up. Expect a full-court press to get a seat at the table" in the general election in November, he says.
---