Why Scott Brown is taking his US Senate seat early
Senator-elect Scott Brown of Massachusetts is being sworn in earlier than expected, and it's not just to avoid a snowstorm. He'll be in a key position to help fellow Republicans block the nomination of a union lawyer to the National Labor Relations Board.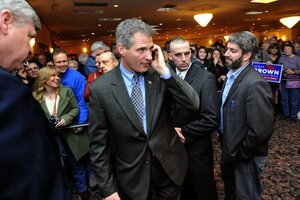 Gretchen Ertl/AP
As far as the GOP Senate minority is concerned, the cavalry arrives today. Massachusetts Republican Scott Brown is racing to Washington to be sworn in Thursday, a week earlier than he had planned.
The sudden bolt to the nation's capital will bring Mr. Brown in ahead of a major snowstorm that's expected to wallop the region over the weekend. More to the point, it will also end the Democrats' 60-vote supermajority – and enable Brown to take part in several key near-term votes.
In particular, the new Senator Brown will arrive just in time to block President Obama's choice, a union attorney, from getting a key federal job.
If Brown votes against the confirmation of Craig Becker, a Service Employees International Union lawyer, to a seat on the National Labor Relations Board, his Senate career may begin with an irony. Brown received some union support and has vowed to be an independent voice – but the Becker nomination has become a bitter, partisan affair that's expected to be decided along straight party lines.
---