New Tea Party PAC: Can it raise $10 million for midterm revolt?
Tea Party Nation announced at its first convention Friday that it's forming a political action committee to help fund, train, and guide upstart campaigns across the country. It won't be the first, or likely the last.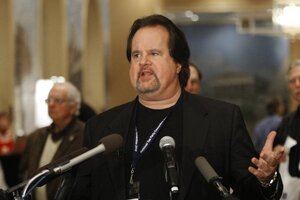 Ed Reinke/AP
With a vow to "take away the mystery of campaigns," organizers of the first-ever Tea Party Convention followed up Friday with the announcement of a new political action committee that would work to elect "tea party"-style candidates in as many as 20 national races this fall.
It won't be the first such endeavor since the millions-strong "tea party" movement first flooded onto the streets after CNBC reporter Rick Santelli's much-publicized "rant" against a proposed government mortgage bailout a year ago.
For example, the Tea Party Express PAC spent $285,000 on Scott Brown's race in Massachusetts. His victory bolstered the fortunes of the tea party movement by breaking the Democrats' filibuster-proof majority in the Senate, putting much of the Democratic agenda, including healthcare reform, in jeopardy. Moreover, there are literally dozens of smaller tea party PACs from Tennessee to California working to raise money for local tea party candidates.
---