As counter-media fuels tea party movement, main stream media catches on
The mainstream media 'can no longer control the narrative' of American culture, contends counter-media mogul Andrew Breitbart in a fiery speech to Tea Party Conventioneers. But that doesn't mean tea partiers are saying 'no comment' to establishment reporters.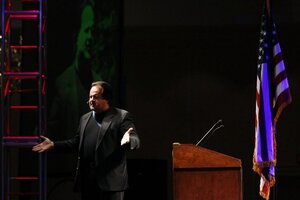 Ed Reinke/AP
Recounting the exploits of two young reporters who went undercover to uncover the ACORN scandal, online publisher Andrew Breitbart on Saturday exhorted a widely held view among those in the tea party movement: Liberals and media organizations "can no longer control the narrative."

The rise of conservative media outfits like Breitbart's Big Journalism [bigjournalism.com] and Big Government and Tucker Carlson's The Daily Caller [thedailycaller.com] have offered a kind of counter-media that, in Breitbart's view, tells the stories that the mainstream media won't tell Americans – including that of the nascent tea party movement, which has grown largely by Twitter, Facebook and via blogs like Glenn Reynolds' Instapundit [instapundit.com].
Technology the great equalizer
---