'Run, Sarah, run': Sarah Palin's tea party speech a hit
Light, folksy, and full of jabs against President Obama and the Democrats in Washington, Sarah Palin's tea party speech in Nashville, Tenn., marked a possible milestone for her future presidential plans. But will the tea party movement help or hurt her plans in the long run?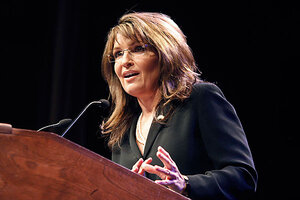 Josh Anderson / Reuters
Appearing relaxed and filling the Opryland resort here with her trademark folksy but often stinging jabs at Obama and the Democrats, Sarah Palin on Saturday night became the face of the anti-establishment 'tea party' movement.

"America is ready for another revolution, and you are part of this," Ms. Palin told 1,100 attendees at the first National Tea Party Convention at the Opryland resort outside Nashville.
While calling for new "big ideas," Palin didn't lay out any specific plans, as prospective presidential contenders are wont to when they have a chance to give a national speech, according to the Associated Press.
She did, however, criticize Democrats in Washington for what she called the failure to right the US economy, expensive bailout packages, and for what she perceives as a lax national security stance. She specifically called for "tough actions like sanctions on Iran."
---