Baucus, Grassley push bipartisan jobs bill in the Senate
The Baucus-Grassley bill focuses on those who have been out of work for at least 60 days. But some experts say it would have only modest impact on the unemployment rate.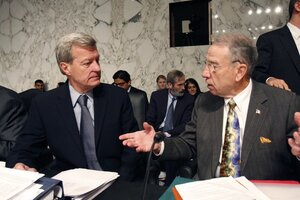 Harry Hamburg/AP/File
The Senate's new bipartisan jobs bill likely would have only a modest effect on the US unemployment rate.
That is because the centerpiece of the legislation is a tax credit for companies that hire people who have been out of work for at least 60 days. Many economists say such credits are inherently inefficient employment-boosting tools.
"The problem with subsidies such as this is that they are exceedingly sloppy. A lot of money goes to those firms that would have hired anyway," writes Howard Gleckman, a senior research associate at the Urban Institute, in an analysis of the subject.
Sen. Max Baucus (D) of Montana, chairman of the Senate Finance Committee, and Sen. Charles Grassley (R) of Iowa, the panel's top Republican, jointly introduced the jobs measure on Thursday.
Trying to overcome partisanship
Aware of the sharp partisanship that has dominated their chamber in recent months, the pair pleaded with their colleagues to allow quick action on a bill they say reflects a balanced set of priorities.
Any delay in consideration of the package "will undermine our goal of timely action in the current economic climate," said Senators Baucus and Grassley in a joint statement.
---