Pay-go redux: Can Obama rein in federal spending?
The President in his Saturday address says the country must get ready to go line by line in the federal budget to cut record deficits and make America stronger. But Republicans smell a trap: middle class taxes.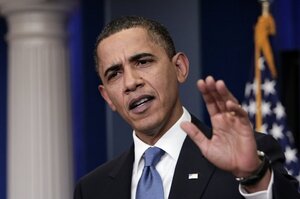 J. Scott Applewhite/AP
Days after presenting a budget that will create a record $1.56 trillion deficit this year, President Obama vowed Saturday to comb through future budgets line by line to forestall growing deficits that began under his predecessor, George W. Bush.
Legislation signed by Obama on Friday raises the federal debt ceiling from $12.4 trillion to $14.3 trillion but aims to rein in runaway federal spending by bringing back the "pay-go" rules of the 1990s – forcing lawmakers and the president to offset new spending with equal cuts elsewhere.
"This isn't a perfect world. This is Washington," Obama said in his weekly Saturday radio address. "[Balancing budgets] falls prey to the pressure of special interests, to the pull of local concerns, and to a reality familiar to every single American – the fact that it is a lot easier to spend a dollar than save one."
What about the debt ceiling?
Critics say Obama is being partisan if not disingenuous in talking about budget discipline even as he and the Democratic Congress just lifted the debt ceiling – ostensibly to save the economy – further beholding the nation to China, its chief lender.

After Obama's statement last week that he's "agnostic," or unwilling to commit to an opinion, about middle class tax hikes, Republicans especially are worried that the president is signaling a willingness go back on his campaign promise to hold the line on middle class taxes in order to underwrite what they see as his overly-progressive agenda.
---