A constitutional right to hunt? Voters in three states to decide.
Voters in at least three states will decide whether to enshrine a right to hunt in constitutions. Critics see the measures as a political 'wedge' issue.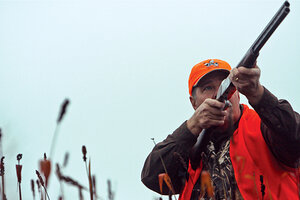 MCT/Newscom/File
Mark Simpson ventures into the woods every weekend during deer season. He began hunting with his dad 35 years ago and says he can't imagine a time when hunting would be banned.
"Entire families get together every year," says Mr. Simpson of Little Rock, Ark. "There is a fellowship element."
Worries that hunting will one day be banned or restricted – the result of the work of animal rights activists or of "liberals" in control of Congress – are leading more states to establish "a right to hunt and fish" in their state constitutions. This year, residents of Tennessee, Arkansas, and South Carolina will vote on right-to-hunt initiatives, and North Carolina and other states may yet add hunting-related constitutional amendments to their ballots. [Editor's note: This sentence was changed to reflect the fact that North Carolina does not currently have a right-to-hunt amendment on the ballot. The gun lobby plans in May to push the legislature to add one.]
"It's better to be safe on the front end than wait and deal with the problem when it's too late," says Steve Faris (D), an Arkansas legislator who sponsored a ballot measure to make hunting a constitutional right here. "Hunting is a right that is a given, but it could be taken away – especially when we see more lawsuits asking for all kinds of hunting to be banned."
---