Is healthcare bipartisanship down the drain?
Both sides are angling for position on healthcare reform. But it looks like there'll be no meeting of the minds, and Democrats are likely to go it alone.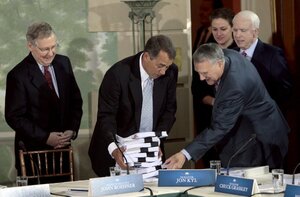 Pablo Martinez Monsivais/AP
President Obama is still holding out for bipartisanship on healthcare reform. At least that's the rhetoric coming from the White House two days after a historic seven-hour meeting with lawmakers across the street at Blair House.
"I am eager and willing to move forward with members of both parties on healthcare if the other side is serious about coming together to resolve our differences and get this done," Obama said in his weekly radio/Internet address Saturday morning.
But more and more, it's looking like Democrats will have to go it alone on what has become the most contentious issue in Obama's first year in the White House – at least if anything comprehensive is to result from the debate.
Obama hints at this when he adds, "...we cannot lose the opportunity to meet this challenge." And he lists the major differences between the two sides, including insurance company accountability, tax credits for businesses and individuals, and how to handle preexisting medical conditions.
GOP won't cooperate with Obama
---