A primary fight for Sen. Blanche Lincoln: Good for Republicans?
The liberal wing of the Democratic Party, no fan of incumbent Sen. Blanche Lincoln of Arkansas, is cheering the forthcoming primary fight with state Lt. Gov. Bill Halter. Some political analysts say the internal party battle could make the seat even riper for a Republican takeover.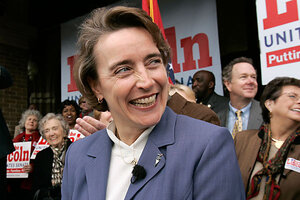 Danny Johnston/AP
The liberal wing of the Democratic Party cheered Monday upon learning that Arkansas' Sen. Blanche Lincoln, a conservative Democrat and one of the most vulnerable incumbents in the 2010 midterm election, will have a primary challenger. But political handicappers say the contest with a fellow Democrat is likely to further weaken her, even if she wins, and, if she loses, will put Republicans in a stronger position to grab the seat in November.
To self-styled progressives, Senator Lincoln might as well be a Republican, given her voting record on issues dear to their hearts. They had wanted someone in this race they could support, and on Monday they got what they'd been waiting for when Lt. Gov. Bill Halter released an online video announcing his intent to run.
His move means that Lincoln will be forced to spend from her $5 million campaign war chest early – something Republicans were hoping would happen.
IN PICTURES: The 12 retiring senators
These prospects dampened the mood among Lincoln supporters assembled Monday in front of Little Rock's historic train depot, where the senator, citing her values and love for Arkansas, formally announced that she would seek reelection. (For previous Monitor coverage of the "tea party" movement in Arkansas and its role in the Senate race, click here.)
---