Which Oscar nominees made political donations, and to whom?
Hollywood has long been intertwined with politics, especially Democratic causes. That holds true for most of the political cash donated by this year's Oscar nominees. A Best Supporting Actor candidate heads the list.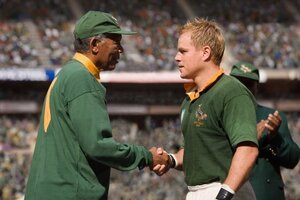 Keith Bernstein/Warner Bros./AP
This just in: Hollywood prefers Democrats.
This year's Oscar nominees gave more than $400,000 to federal candidates and campaigns in the past 20 years – 87 percent to Democrats, according to a report by the Center for Responsive Politics in Washington.
Overall, the entertainment industry of TV, music, and movies has contributed $264.8 million to federal candidates and political parties over the past 10 years – 70 percent to Democrats, according to CRP data.
IN PICTURES: Oscar nominees: Who donated the most in politics
"The relationship between Hollywood and Washington has a longstanding, albeit rocky, history; actors have been among the most vocal political activists," the report notes. (See a Monitor report on this year's Academy Award nominees here.)
---
Follow Stories Like This
Get the Monitor stories you care about delivered to your inbox.