Obama's Nobel Prize money: education groups to get most of it
Of the 10 charities receiving part of Obama's $1.4 million Nobel Prize award, six directly support higher education for student groups that are traditionally underserved.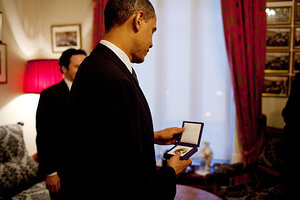 Official White House Photo by Pete Souza
President Obama is putting his prize money where his mouth is.
He has preached that by 2020, the United States should lead the world in the portion of citizens earning college degrees. On Thursday, he donated his $1.4 million Nobel Peace Prize award to 10 charities, six of which directly support higher education for traditionally underserved groups.
Leaders of several of the groups say the gifts were a surprise and a tremendous boost in their work to help students stay on a path to a college degree.
Students and teachers cried with delight as soon as they heard news of the donation to College Summit, says J.B. Schramm, founder and CEO of the Washington-based group. It plans to divvy up the $125,000 gift among the 12 states where it has 170 partner high schools.
Teens at these schools are identified as peer leaders and then attend summer workshops that help them apply for college and financial aid. They're often the first in their family to consider college, and they learn how to share what they've gained with fellow high-schoolers.
"What our students heard is that the president is saying, you're not just a vessel to get education poured into you; you can drive the change in your own community," Mr. Schramm says.
---