Will House healthcare reform vote come next week?
Speaker Nancy Pelosi says the vote on the healthcare reform bill may come next week, but House Democrats are waiting for assurances about what the Senate will do afterward.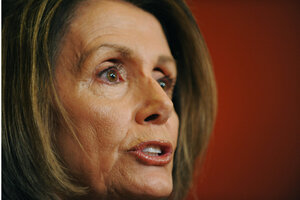 NEWSCOM
With President Obama delaying a trip to Asia until March 21 to rally support for healthcare reform, House Democrats are stepping up the pace to get a bill to the Oval Office by the end of next week.
"I'm delighted that the president will be here for the passage of the bill," said Speaker Nancy Pelosi at a briefing Friday. "It's going to be historic,"
Pressed on that timing, she added: "We will take the time that we need to pass the legislation. ... I'm hoping that it will be in that time frame."
But to get 216 House lawmakers to agree to approve a Senate bill that most of her caucus opposes, the speaker must convince House Democrats that they can count on the Senate to "fix" the bill, once it is signed into law.
Senate Republicans all week have been cautioning Democrats that the "fix" on their side of the Capitol is not assured. All 41 Republicans signed a letter promising to vote as a bloc to invoke "the Byrd rule" if Democrats try to move fixes not strictly related to the budget issues. It takes 60 votes to waive the Byrd rule; the Senate Democratic caucus has 59 members.
---