'Deem and pass': Democrats' new tactic for healthcare reform bill
House Democrats may use a procedure that allows them to 'deem' the Senate's healthcare reform bill passed without actually having to take a direct vote on it.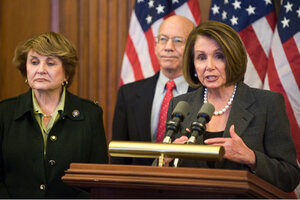 NEWSCOM
The battle for healthcare reform is shifting from open-field policy fights to the obscure trenches of procedural warfare, as House Democrats look to pass the Senate bill without a direct vote.
It's a procedure called a self-executing rule, and if it is used, the Senate healthcare reform bill will be "deemed" to have passed the House whenever the House passes a package of fixes to the Senate bill.
Deeming is typically used as a convenience for issues that aren't controversial. But this week, "deem and pass" could also give members cover for the toughest and most historic vote of their careers.
Asked to comment on Republican claims that Democrats are using procedural "gymnastics" to avoid accountability, Speaker Nancy Pelosi said at a briefing on Monday: "It's about accountability of the insurance companies. It's about affordability for the middle class. It's about accessibility for many more people."
"It's not about gymnastics alone – except if that's part of the wellness program that we have for our children," she added.
Republicans assail plan
Republicans took to the floor of the House and Senate today to attack this strategy as a bid to hide a vote that most Democrats would rather not take. With 178 seats in the House – and four of 13 seats on the powerful Rules Committee – Republicans don't have the votes to defeat this strategy, but they aim to make it as costly to Democrats as possible, especially those in tough races in 2010.
---