Healthcare reform would lower deficit by $130 billion over 10 years
House leaders made that announcement about the healthcare reform legislation, citing a forthcoming report from the Congressional Budget Office.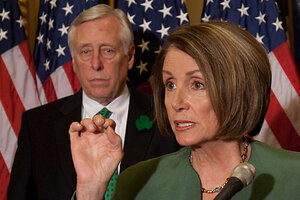 Harry Hamburg/AP
The Senate healthcare bill, with House "fixes," will reduce the federal budget deficit by $130 billion in the first 10 years and $1.2 trillion in the second 10, according to House leaders, citing a forthcoming report from the Congressional Budget Office.
The long-awaited CBO report appears to be a big boost to House Democrats in a sprint to get healthcare reform wrapped up, as soon as this week.
"It is the largest deficit reduction measure in 25 years, since Clinton's budget in 1993, which ushered in the great economy of the 1990s," says House majority leader Steny Hoyer.
Many Democrats – from fiscal and social conservatives on the right of the caucus to progressives on the left – have had serious concerns about the Senate version of the bill – even with a package of "fixes."
But for many conservatives in the caucus, the biggest obstacle was the overall cost of the bill – and claims that it would significantly expand the reach of government into one-sixth of the economy. The CBO, in its forthcoming report, sets the 10-year cost of the bill at $940 billion, but with offsets and cost savings higher than expected.
"The CBO score adds to the momentum," says Ralph Neas, CEO of the National Coalition on Health Care, a pro-reform group. "A lot of people thought that the new CBO score could be a setback. They were expecting the numbers to be bad, and these are much better than expected."
In addition to positive economic news, the tipping point for many wavering Democrats appears to be that this is a crucial moment for the Obama presidency – and the last chance to pass historic healthcare legislation before midterm elections, if ever.
---