Why Americans oppose the healthcare reform bill
Many say the healthcare reform bill will help only the poor and uninsured. Americans' inability to make sense of it is causing them to respond negatively or to retreat to familiar partisan positions, poll and political analysts say.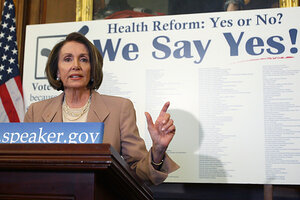 Hyungwon Kang/Reuters
In a sign of President Obama's failed attempt at convincing Americans his healthcare reform bill will help them, a new Gallup poll shows the majority of the US believes the bill in Congress will benefit just the poor and uninsured.
Almost 60 percent said the healthcare bill would make things better for the uninsured, and 56 percent said it would benefit lower-income families. But 44 percent believe the bill would make things worse for the US as a whole. And less than a third of Americans polled said it would make things better for them and their families.
"The bottom line is that Americans perceive this to be a Medicare-type bill – a welfare bill mainly aimed at helping poor people and those without insurance," says Frank Newport, editor in chief of Gallup. "They think everyone else will be a net loser."
Partisan divide
No surprise, the poll also reflected a deeply partisan divide over the issue.
---