Health care vote results: bill passes, Obama to sign it into law
The health care vote results came in late Sunday night, with the House passing the bill, 219 to 212. President Obama is set to sign the bill into law this week. After that, the Senate will take up 'fixes.'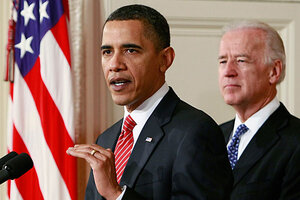 J. Scott Applewhite/AP
The House of Representatives passed health care reform late Sunday night on a 219-to-212 vote, which results in President Obama getting to sign into law this week his top domestic priority.
The vote is being touted as the single most significant piece of domestic legislation to be passed by Congress since Medicare in 1965. Though Democrats and Republicans disagreed on whether it was for good or ill, most acknowledged that it was a historic day in American politics.
The $940 billion bill will cover 32 million uninsured Americans and ban the denial of coverage for preexisting conditions, phasing in taxes on the rich to pay for this expansion of coverage.
The Monitor's comprehensive Health Care 101 series on what is in the bill – from who is eligible for subsidized insurance to what it means for businesses – can be read here.
---