Healthcare reform bill signed, Obama ramps up big sell
President Obama signed the healthcare reform bill Tuesday. Democrats will now work to sell the new law's benefits, while Republicans look to repeal it and emphasize their own plan.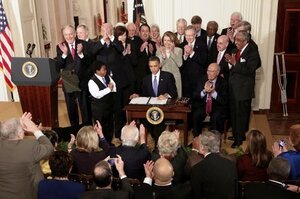 Charles Dharapak/AP
Healthcare reform has been signed into law. But the battle to sell it continues.
Republicans, none of whom voted for the bill, are seizing on public dissatisfaction and confusion over healthcare reform to push for repeal as a key argument in the fall elections. Democrats know they have to fight back. And so it falls on party leaders, from President Obama on down, to settle on a single, simple message and then pound it home.
In his East Room signing ceremony Tuesday, Mr. Obama stressed the elements of reform that go into effect this year, almost defying Republicans to try to take the new protections away.
Healthcare 101: What the bill means to you
"In a few moments, when I sign this bill, all of the overheated rhetoric over reform will finally confront the reality of reform," Obama said to a crowd of Democratic lawmakers and invited guests.
Obama accentuates the positive
Among the elements the president stressed, all of which begin this year: tax credits for small businesses to help them provide insurance for employees; a ban on dropping the insurance of people who get sick; a ban on refusing insurance for children with preexisting conditions; and allowing parents to put adult children up to age 26 on their policies.
---