Amid harsh criticisms, 'tea party' slips into the mainstream
The release of the top three 'tea party' issues this week gives a glimpse of a small-government movement growing, maturing, and looking increasingly more like middle America.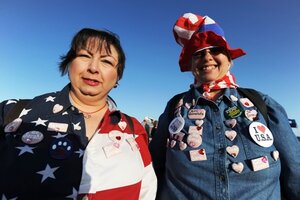 Newscom
Their faces sometimes twisted in anger, 'tea party' followers have been called neo-Klansmen and knuckle-dragging hillbillies.

To be sure, angry town halls, the N-word thrown at black congressmen, and signs comparing President Obama to Adolf Hitler play into the hands of the movement's critics. And demonizing tea party activists tends to energize the Democrats' left-of-center base.

But political experts say that many such criticisms are near-sighted, if not outright inappropriate – and ultimately may miss the point. Indeed, polls suggest that tea party activists are not only more mainstream than many critics suggest, but that a majority of them are women (primarily mothers), not angry white men.
What's more, the release this week of the top three planks of the "crowd-sourced" Contract From America project, to some activists, shows a maturation from sign-wielding protesters to a political reform movement grounded in ideas.
---