Obama: On bank reform, Sen. McConnell is 'cynical and deceptive'
Obama and the GOP are fighting over bank reform. Republicans accuse the administration of pushing a 'bail out.' The White House says opponents are 'trying to kill reform on behalf of big banks.'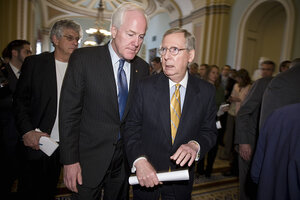 Newscom
President Obama lashed out Saturday at those who he says want to stymie financial industry reform – those "who profit from the status quo – as well their allies in Washington."
In his weekly radio/web address, Obama targeted for particular criticism Senate minority leader Mitch McConnell and Republican Senatorial Committee Chairman John Cornyn, who he noted had met this week with Wall Street executives.
"Lo and behold, when he returned to Washington, the Senate Republican Leader came out against the common-sense reforms we've proposed," Obama said. "In doing so, he made the cynical and deceptive assertion that reform would somehow enable future bailouts – when he knows that it would do just the opposite."
Focus of the debate is a Senate financial reform bill that includes a $50 billion fund to pay for liquidating distressed financial firms – which Republicans see as a bailout and something which was not included in the original White House proposal.
"It's especially disappointing for the president to attack Senator McConnell for raising concerns about the bailout loopholes in the bill when just last night the White House agreed with Senator McConnell and its own treasury secretary and asked Senate Democrats to remove the $50 billion fund," McConnell's spokesman, Don Stewart, said on Saturday. "Senator McConnell takes the president at his word that he wants a bill that does not expose taxpayers to future bailouts and will not destroy job creation. And we are committed to working with anyone willing to achieve that."
---