Arizona immigration law: Embarrassment or way forward for Republicans?
With a tough new immigration law in Arizona, Republicans finally find traction on a national issue. The risk for backlash, though, is high.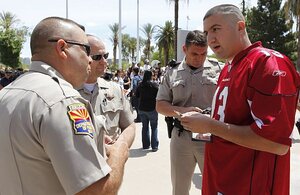 Newscom
Despite President Obama calling it "misguided" and given its potential for European-like paper-checking of citizens by police, the tough new Arizona immigration law provides something new for a Republican Party wandering in the wilderness: An impactful idea.

In signing the bill Friday afternoon, Arizona Gov. Jan Brewer (R) shook up the political world by calling the new immigration law a solution "to a crisis we did not create, and which the federal government has refused to address."

Taken together with hundreds of other anti-illegal immigration bills proposed and passed by state legislatures in recent years, the Arizona law, which gives police new powers to detain anyone suspected of being illegal, is also a repudiation by sidelined conservatives of George W. Bush's conciliatory stance on immigration.

The health care reform campaign showed that Obama and congressional Democrats felt little need to heed Republican calls for compromise. President Obama took the unusual step Friday of castigating a state law and urging Congress to take up the issue.

But how simpatico Arizona's wild west conservatives are with the rest of the country remains a big question.
---