Republicans relent, clear financial reform bill for debate
After three days of blocking tactics, Republicans allowed the financial reform bill to proceed. What's next? Weeks of amendments as Republicans – and some on the left – try to change the bill.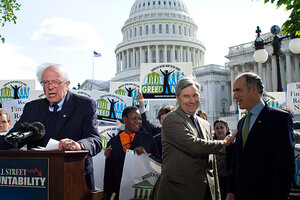 Harry Hamburg/AP
After three failed procedural votes this week, Senate Republicans Wednesday allowed Democrats to move financial reform legislation to the floor by unanimous consent.
Republicans say they won important concessions during the three days of delay, including assurances that Democrats would drop a $50 billion fund to be used in major bankruptcies. They claim that the money, which would have been collected from banks, would act as a permanent bailout fund.
But hopes among Republicans faded that they could address their other major concerns – including the powers of a new consumer-protection agency and the regulation of derivatives – though back-room negotiations.
With an impasse looming, Republicans relented. By doing so, they are conceding that the only way they can further change the financial reform bill is through amendments, which must get 60 votes to avoid a filibuster.
"It's a clear sign that Republicans understood that they were losing this public relations battle," says Norman Ornstein, a congressional expert at the American Enterprise Institute in Washington. "Now, they can continue negotiations, so both sides can declare victory and have a bill they can vote for."
---