Financial reform debate begins with a familiar target: Goldman Sachs
As debate begins on the financial reform bill, one of the topics was the 'proprietary trading' highlighted in the Goldman Sachs hearings this week and called unethical by many lawmakers.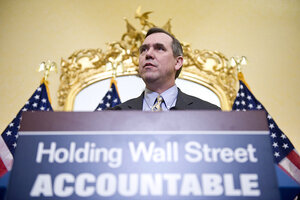 Newscom
The US Senate began debate on sweeping reforms to financial regulation Thursday, opening the door for possible changes that could make the bill tougher or looser before it goes to President Obama's desk.

A case in point is an issue that flared up in a separate Senate venue this week, involving the powerful investment bank Goldman Sachs.
At the Tuesday hearing, members of the Senate Permanent Subcommittee on Investigations peppered Goldman executives with questions, most of which boiled down to this: Is it appropriate for a financial firm to be betting against an investment with one arm, in its own trading, while marketing the same investments to clients with another?

To Sen. Carl Levin (D) of Michigan, the subcommittee chairman, the answer is no.
Goldman Sachs resisted his characterization that this amounts to a clear conflict of interest. Now, he and some colleagues are hoping to amend the Senate's financial reform bill to crack down harder on the so-called "proprietary trading" that firms like Goldman engage in.
Plugging ethical gaps
---