With Charlie Crist's independence day, fireworks in Florida
Florida Gov. Charlie Crist announced Thursday that he would run in the race for the open US Senate seat as an independent. That makes it a three-way race, where anything is possible.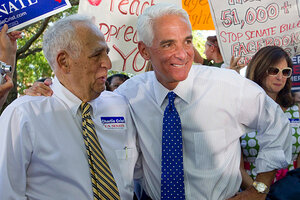 Scott Audette/Reuters
Thursday was independence day for Charlie Crist.
But the governor of Florida, now an ex-Republican, may not be feeling quite like setting off fireworks. Governor Crist has taken the gamble of a lifetime, quitting the party that nurtured his rise to the top of Florida politics – and to national prominence – in the hopes of revitalizing his campaign for the US Senate.
Polls showed he was headed for near-certain defeat in the Aug. 24 Republican primary against former state House speaker Marco Rubio. For now, at least, he can point to polling that shows he has a shot at winning the seat in a three-way race against Mr. Rubio and Democratic Rep. Kendrick Meek. A Quinnipiac poll taken in mid-April has Crist winning 32 percent of the vote, Rubio with 30 percent, and Congressman Meek with 24. Private polls have shown similar results.
IN PICTURES: Famous political party switches
In a three-way race, where someone can win with less than 35 percent of the vote, anything is possible. And in addition to giving Crist a new lease on his political life, the gambit also suddenly makes Meek viable – especially if the Democrats currently supporting Crist go "home" to their own party's candidate.
---