After health-care reform, is immigration reform achievable?
Many say Arizona's stringent new law demands immigration reform from Washington. But Congress may not be ready for another political showdown so soon after health-care reform.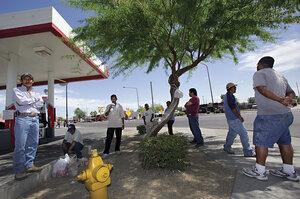 Matt York/AP
Immigration reform is a steep climb under the best of circumstances. The last president to sign a major overhaul was Ronald Reagan, in 1986. And now, with Washington as deeply polarized as it is – and in the thick of a midterm election campaign – getting anywhere becomes well-nigh impossible.
That still has not stopped Senate majority leader Harry Reid (D) of Nevada from trying to keep alive efforts to bring an immigration overhaul to a vote this year. Senate Democrats unveiled a new proposal for reform late last week, stressing security first, then a pathway to legalization for the estimated 10.8 million people in the country illegally. The Democrats were making a long-shot effort to attract Republican support, but none was forthcoming, and the issue has receded in Washington as the Gulf of Mexico oil slick and the failed Times Square car bomb attack consume attention.
But for Senator Reid, immigration remains a top political concern: He is embroiled in a tough reelection battle, and he needs the support of Nevada's large Hispanic population – 20 percent of the state.
---