Citing BP oil spill, Schwarzenegger drops offshore drilling plan
Citing the BP oil spill, Schwarzenegger said Monday he could no longer back a California offshore drilling initiative. He also vetoed a bill that sought to ban smoking at state parks and beaches.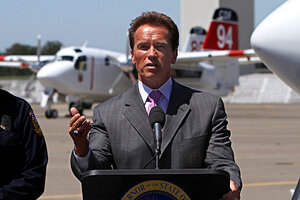 Rich Pedroncelli/AP
California Gov. Arnold Schwarzenegger withdrew support Monday for a plan he had championed to allow new offshore drilling off Santa Barbara County for the first time since 1969. The decision is being received with sighs of relief by environmental groups as well as cries of "foul" amidst the state's need for jobs and revenue. Some see hypocrisy in the move, while others have applauded Governor Schwarzenegger's new independence.
Citing the disastrous BP oil spill in the Gulf of Mexico, Schwarzenegger – who had just last Friday defended the proposed Santa Barbara project – said the images from the Deepwater Horizon explosion and spill on the Gulf Coast changed his mind. "I see on TV the birds drenched in oil, the fishermen out of work, the massive oil spill and oil slick destroying our precious ecosystem," he said at a news conference Monday. "That will not happen here in California, and this is why I am withdrawing my support for the T-Ridge project."
---