Oil spill, Nashville flood, Times Square bomb: Obama's tough week
The events of the past week would test any president. How well has Obama weathered the BP oil spill, the Nashville flood, a car bomb in Times Square, and Thursday's wild stock market ride?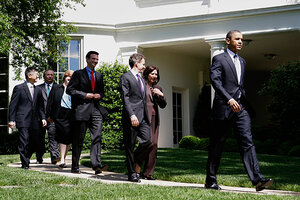 Susan Walsh/AP
When all is said and done, a post-presidential Barack Obama may look back on this week, and think, "Phew!"
Between the massive oil spill in the Gulf of Mexico, the attempted car bombing in New York's Times Square, the Dow plummeting nearly 1,000 points in one day before recovering somewhat, and the flooding of Nashville, the events have been enough to try any president's soul. Oh, and he's also about to nominate a new Supreme Court justice. And perhaps pass financial regulatory reform.
Through it all, President Obama has maintained his trademark equilibrium – and steady state job approval ratings, still typically just a click below 50 percent in major polls. And there's no sign, so far at least, that the slow-motion catastrophe in the Gulf is Obama's hurricane Katrina, politically speaking. A Fox News poll released Thursday showed that 50 percent of Americans approve of how the Obama administration is handling the oil spill, with 29 percent disapproval and 21 percent unsure. That 50 percent mark is two points above his job approval in the Fox poll, conducted by Opinion Dynamics Corp.
---