At Gulf oil spill hearing, plenty of blame, not many answers
Senators grilling executives from the companies at the center of the Gulf oil spill tried to discern why fail-safe systems failed and why the spill has gotten out of hand. They got few answers.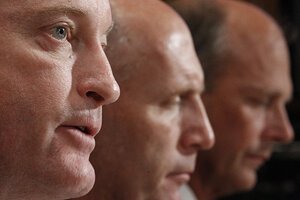 Pablo Martinez Monsivais/AP
The US Senate waded into the expanding Deepwater Horizon oil spill mess for the first time Tuesday, grilling oil industry executives over fail-safe systems that failed, lack of planning to deal with a major spill, and the executives' attempts to shift blame to one another.
The hearing focused on what industry executives believed may have been the cause of the blowout – as well as why exemptions from environmental review were granted for the well from the Minerals Management Service, the lead federal safety agency overseeing offshore oil drilling.
IN PICTURES: Louisiana oil spill
The day brought typical flourishes of theater, with lawmakers asking rhetorical questions they would not let the panel answer. But it also revealed what appeared to be genuine anger, suggesting that this hearing was – as Sen. Barbara Boxer (D) of California said – "just the first step" toward new regulations. Along the way, senators did their best to paint the offshore oil industry as one beset by shoddy oversight and dubious safety records.
For their parts, the executives for BP, Transocean, and Halliburton – the companies that owned the lease for, operated, and did contract work on the Deepwater Horizon oil rig, respectively – pointed fingers.
---