Which matters most to the 'tea party': win seats or reshape GOP?
The 'tea party' movement has driven out some GOP 'establishment' candidates. The big question is whether activists' picks can win in November, though that may not be what they care about most.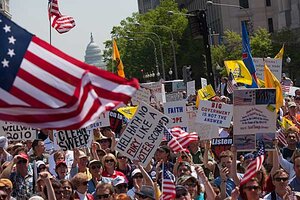 Evan Vucci/AP
If Republican leadership felt a little unsettled about the "tea party" movement and how it would affect the GOP this election cycle, now it must be downright rattled. Tea party activists are proving ready and able to shake up state GOP conventions and Republican primary races, potentially endangering short-term Republican gains in Congress in favor of a wholesale reengineering of the party.
So far, the tea party movement has forced TARP-embracing Florida Gov. Charlie Crist to go "independent" in his Senate race, to try to survive an insurgent bid by tea party favorite Marco Rubio. In Utah, three-term Sen. Robert Bennett placed a distant third in the state convention this weekend, ending his Washington career. In moderate Maine, the GOP convention over the weekend incorporated into its platform tea party principles such as restoring 10th Amendment protections against federal overreach.
---