'Tea Party' eyes big prize: the 2010 midterm elections
The year-old tea party movement is growing. But it's fractious, and that may undercut conservative strength for the midterm elections.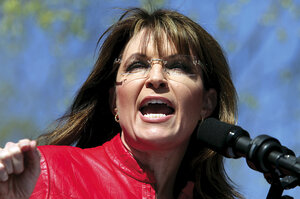 Melanie Stetson Freeman/Staff
The moment of truth is coming for the "tea party" movement. Forget about Patriot's Day, or last week's excitement around tax day. The big show is the elections – both the primaries and Election Day, Nov. 2.
But trying to get a handle on how tea partyers will affect these votes can be like watching cats wrestle under the carpet. You know something's going on, but you're not quite sure what. This populist movement favoring low taxes, small government, and personal freedom has remained highly decentralized, by design. And it's anyone's guess how many active participants or local groups there are.
A former state GOP chair puts the number at 500-plus local tea party groups, and 15 umbrella groups. Mark Kibbe, president of the Washington-based FreedomWorks, which advises tea party groups, says there are "easily thousands of local groups."
Nailing down the demographics has also been a challenge. A recent Quinnipiac Poll showed tea partyers to be mostly female. Last week, a New York Times/CBS News survey found that a majority are men and older than the electorate as a whole.
"The tea party produces more noise than numbers," says David Wasserman, House race expert for the nonpartisan Cook Political Report. "The impact will be on the margins. But that's still relevant, because the majority in the House is on a knife's edge."
---