Trouble brewing between the Tea Party movement and the GOP?
Members of the Tea Party movement say they are not beholden to the GOP.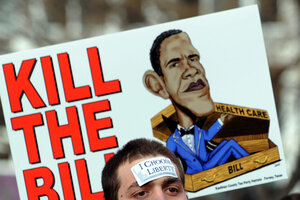 NEWSCOM
Some Tea Partiers say they can pinpoint the precise moment when they made it clear to the Republican Party they had no intention of being its lapdog.
On a bright, brisk afternoon in mid-February, with snow still thick on the ground from storms that had battered Washington the week before, Republican National Committee Chairman Michael Steele met with more than 50 members of the Tea Party, the Twitter Age conservative movement that is reshaping the U.S. political landscape.
Steele, RNC chairman since January 2009, had invited them to the plush Capitol Hill Club, built as a clubhouse for the party's top brass next door to RNC headquarters.
According to several accounts, not long into the meeting JoAnn Abbott, an activist from Virginia who calls herself the 'Tea Party Grandma,' raised her hand to ask a question.
She asked about a web page on the RNC site where visitors could send their member of Congress a postcard with a tea bag. On the tag at the end of the string were the letters 'RNC.'
"Respectfully, sir, while we do not have a trademark on the tea bag, you are well aware that people associate it with the Tea Party movement," Abbott, 50, recalls saying to Steele. "If you co-opt that image, you damage our brand and weaken our movement."
---