Obama-Brewer summit on illegal immigration eases tensions
Though they continue to differ on illegal immigration issues, including comprehensive reform and border security, Arizona Gov. Jan Brewer and the White House described the meeting as cordial.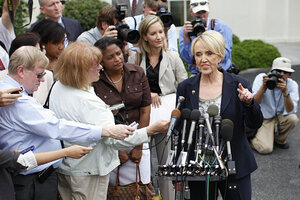 Charles Dharapak/AP
The White House and Arizona Gov. Jan Brewer (R) both reacted positively to her half-hour meeting with President Obama on Thursday, which focused on illegal immigration.
The White House, in a written statement, called it a "good meeting." Governor Brewer called it "very, very cordial," and said, "I am encouraged that there's going to be much better dialogue between the federal government and the state of Arizona."
The president-governor summit was the culmination of weeks of negative rhetoric coming from both sides, following Brewer's decision in April to sign tough legislation aimed at curtailing illegal immigration. Under the law, police must check the residency status of someone who is being investigated for another possible legal infraction and who also raises "reasonable suspicion" that they are in the country illegally.
---