Quagmire? Nine years on, Americans grow weary of war in Afghanistan
Americans approve of Gen. David Petraeus as the new US commander in Afghanistan. But after nine years and with mounting US casualties, support for the war itself is waning.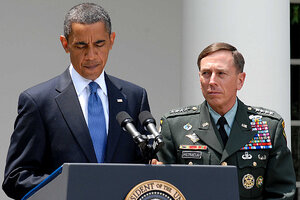 Newscom
Until recently, the nine-year conflict in Afghanistan had become "the forgotten war" for many Americans – a complaint increasingly heard among US troops there.
But this week's sacking of Gen. Stanley McChrystal as US commander puts Afghanistan – and especially how the fight against the Taliban is going – squarely back into public thought and concern.
Most Americans agree with Obama that McChrystal had to go, polls show. But they're far less supportive of the conflict itself, weary of what's become the longest war in US history.
A recent Rasmussen Reports telephone survey of likely voters finds that just 41 percent "now believe it is possible for the United States to win the nearly nine-year-old war in Afghanistan." More to the point, a plurality of 48 percent now say ending the war in Afghanistan is a more important goal than winning it.
---