Financial reform bill another win for Obama, but will the public care?
Following the Recovery Act and health-care reform, the newly approved financial reform bill shows that President Obama is adept at getting his agenda through Congress. But the American public cares about one thing right now: the economy.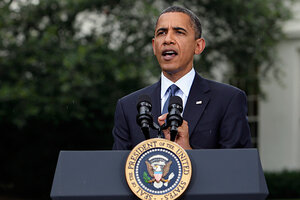 Carolyn Kaster/AP
Passage of financial regulatory reform signals another landmark legislative victory for President Obama, following the Recovery Act and health-care reform.
At a minimum, this latest success demonstrates that Mr. Obama and his team know how to work their big majorities in Congress and get things done. This is part of the spoils of the resounding Democratic sweep of 2008, which handed Obama the White House and large caucuses in the House and Senate.
But big majorities are diverse, and, as the Democrats discovered with health care, getting agreement – and votes – can be like herding cats. Especially in an era of intense polarization, that requires 60 votes in the Senate to pass anything big. The Democrats got three Republican senators to join them Thursday in voting for financial reform, a victory in and of itself, as it passed 60 to 39.
Obama's success in passing financial regulatory reform, just a few months after health care, also puts the lie to the idea that major legislation can't pass in an election year. Democrats know that the days are probably numbered for their big majorities, and that they had to act soon if they wanted it to have a shot at passage. Democrats are also hopeful there's room in the schedule for one more biggie: energy reform.
So what does the president gain politically from passing financial reform? Long term, if the reforms are indeed credited with preventing another collapse of the financial system, then history will view Obama and Co. favorably. But it's hard to prove a negative.
Short term, Obama gets... not much.
---