Solution to Arizona immigration law troubles: 'Safe passage' home?
Allowing all illegal immigrants 'safe passage' out of the country is one proposed solution to the tangle of problems presented by federal immigration reform and the Arizona immigration law.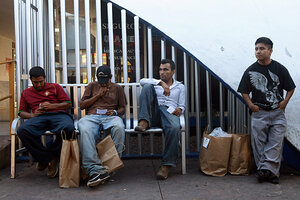 Jae C. Hong/AP
With its now-suspended immigration law, Arizona sent a clear message to illegal immigrants: Pack your bags and go home. Five other state legislatures have introduced similar legislation and 20 more are considering it.
Now, a group committed to stopping illegal immigration is proposing a way to make this happen.
It's called "safe passage," and it's the idea that the US should allow – and in some cases help – the 15 million undocumented Hispanic workers believed to be residing in the US to leave the country freely.
A political action committee, Americans for Legal Immigration (AILPAC), believes safe passage could be a breakthrough idea in Capitol Hill's immigration-reform deadlock. That remains an open question. But some experts say it taps into Americans' mixture of antipathy and sympathy toward undocumented migrants, many of whom share bedrock values with conservative Americans, such as a strong work ethic and deep religious beliefs.
---