Shirley Sherrod: Does she have a case against Andrew Breitbart?
Shirley Sherrod said Thursday that she 'will definitely sue' Andrew Breitbart over the video that falsely portrayed her as a racist. The lawsuit could be a landmark for the blogosphere.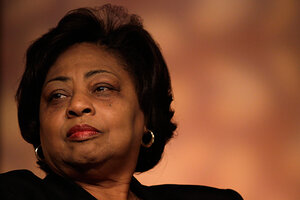 Gregory Bull/AP
Shirley Sherrod, the former Agriculture Department official who was falsely accused of giving a racist address to the NAACP, said Thursday that she is planning to take legal action against Andrew Breitbart, the man who published the heavily edited video that caused the uproar.
The prospect of Ms. Sherrod, the no-nonsense former rural development director for the Agriculture Department in Georgia, taking on one of the bulwarks of the conservative blogosphere could rekindle the race debate that largely flared out after Sherrod was vindicated.
Moreover, in a time when hyperpartisan Internet blogs and cable news channels have begun to echo the pamphleteer days of America's founding – when partisans used phrases like "syphilitic bastard" against political opponents – the case could become a landmark, beginning to define the limits of the largely unchallenged Internet press.
"Vigorous public debate is permitted by the court and people can't be punished for an error made in good faith," says Gene Policinski, director of the First Amendment Center in Nashville. "So there would be an investigation into the good faith aspect of this."
---