Missouri voters stage revolt against Obama health-care reform
They approved a ballot measure designed to let them ignore the part of the Obama health-care reform law that requires people to buy insurance. More than 70 percent of Missouri voters backed it in Tuesday's vote.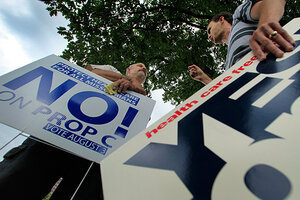 Charlie Riedel/AP
Missourians voted overwhelmingly Tuesday to overturn a core element of President Obama's health-care reform, becoming the first voters in the nation to render a symbolic verdict on the controversial law.
More than 7 voters in 10 on Tuesday supported Proposition C, a ballot measure designed to allow state residents to ignore the federal law's mandate on individuals to either buy health insurance or become insured with government help. With nearly 1 million voters participating, typically light turnout for a primary election day, 29 percent opposed the measure.
Although the ballot measure focused on just one element of the health reform law – the individual mandate – the vote was to some degree a test of public opinion of the law itself. It comes as other states are mounting legal challenges to the law and as both Democrats and Republicans are focusing on health care as a core issue for congressional elections this fall.
Missouri is often a bellwether state in presidential elections. In this case, the margin of support for Proposition C may overstate the level of public opposition to what critics call "Obamacare." But at the least, the vote confirms that the issue could be one that aids and energizes Republicans this fall.
"All throughout the health-care debate, Democrat leaders in Washington told themselves they could do what they want, and then persuade Americans after the fact that it was okay," Senate minority leader Mitch McConnell (R) of Kentucky said in a statement released Wednesday. "Last night, the voters in Missouri overwhelmingly rejected that notion. The people of Missouri have sent a message to Washington: enough is enough."
---