In Chicago mayor's race, Rahm Emanuel works behind the scenes
As competitors for Chicago mayor's office start to kick their campaigns into gear, Rahm Emanuel is reported to make a key hire even as he gauges his electability.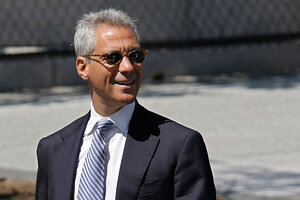 J. Scott Applewhite/AP
Rahm Emanuel's potential bid to run for mayor of Chicago is gaining momentum as local media outlets here are reporting that he is working behind the scenes to gauge his electability against a crowded slate of competitors, some of whom are already starting to ramp up their campaigns.
One candidate, Chicago City Clerk Miguel del Valle, became the first to officially announce and to release a television ad that started airing this week on local cable stations.
Mr. Emanuel, President Obama's chief of staff, may not be on the ground in Chicago, but he is reported to be making calls and holding meetings with potential foes, both to form alliances and possibly to flex his strengths. The Chicago Sun-Times reported Friday he has hired Terry Peterson, the former board chairman of the Chicago Transit Authority who ran Mayor Richard Daley's campaign four years ago.
---