As Rahm Emanuel reaches out to Chicago, city gears up for a fight
(Read article summary)
Even as Chicagoans ponder life without a Mayor Daley, the city is buzzing with stories that White House Chief of Staff Rahm Emanuel is preparing to run for the mayor's office. If he does join the crowded field, a political brawl is virtually certain.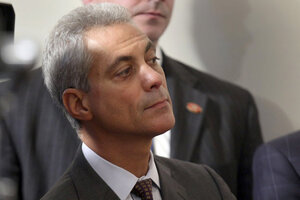 Charles Dharapak/AP/File
Could Chicago have a Mayor Emanuel?
Numerous sources are reporting that President Obama's chief of staff, Rahm Emanuel, is likely to leave Washington next month to mount a mayoral campaign.
Chicago's Mayor Richard Daley – who is about to break his father's record as longest-serving mayor of the city, with 21 years in office – announced this month that he won't seek reelection.
Mr. Emanuel has expressed interest in the job for some time, and has spent the last few weeks contacting Chicago friends and powerbrokers, including potential rivals. He also conducted a poll to gauge his name recognition and chances.
People Emanuel has put out feelers to include Alderman Tom Tunney, who says Emanuel told him that his "poll numbers are looking good." He also met with Congressman Jesse Jackson Jr. – who is also considering a run – last week. Rep. Jackson said that a match between the two would be a "heavyweight fight."
---
Follow Stories Like This
Get the Monitor stories you care about delivered to your inbox.