Suddenly, Bernanke's Fed is a favorite punching bag. Why the pounding?
Ben Bernanke and the Fed are being lambasted, especially by GOP lawmakers, over policies to stimulate the economy. Some worry the criticism will sap the Fed's effectiveness.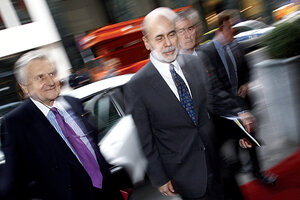 Kai Pfaffenbach/Reuters
The venerable Federal Reserve is in the political cross hairs for the first time since the 1980s, when irate people mailed two-by-fours to then-Chairman Paul Volker to protest interest rates hitting 20 percent.
Criticism of Fed efforts to stimulate the economy and promote job creation is coming in waves – from Congress to cartoons, from foreign leaders to former Republican officials.
Some of the fight is ideological, laced with arguments that the Fed's effort to reduce America's unemployment rate is usurping the powers of Congress and the president. Some of it is being waged on economic grounds – that the Fed is setting the stage for a bad bout of inflation once the economy hits its stride again. And some foreign countries, namely China and Germany, suggest Fed policy is actually intended to lower the value of the dollar, which would make American exports more appealing.
Criticism of the Fed has even hit YouTube.com. A cartoon on the site implies that the central bank is run by people who don't understand economics. As of Dec. 1, the video had been watched 3.1 million times.
Hit from many sides, the Fed seems to have become the latest punching bag for those who believe the United States has taken the wrong course to economic recovery. Though criticism of the Fed is not new, the intensity level is the highest in recent memory, say former Fed officials.
---