For Obama and GOP leaders, just meeting is a bipartisan accomplishment
President Obama met with GOP leaders at the White House Tuesday. The gathering appeared long enough for little else but pleasantries – though, in the current climate, that's no small thing.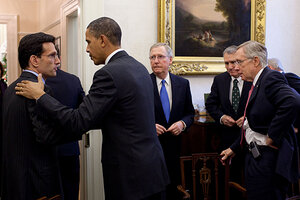 Pete Souza/Newscom
The much anticipated White House meeting between President Obama and bipartisan congressional leaders has finally taken place. The president called it "productive." Senate Republican leader Mitch McConnell called it "a useful and frank discussion." Both Mr. Obama and likely new House speaker John Boehner (R) spoke of finding common ground.
Over the hour, there seemed to be enough time just to air the various topics of concern, starting with the soon-to-expire Bush-era tax cuts and the Strategic Arms Reduction Treaty (START) with Russia that Obama wants ratified before Congress adjourns.
On Topic A, taxes, Obama appointed his Treasury secretary and budget director to negotiate with the congressional Republicans to break through what he called a "logjam" on the issue before the end of the year, when tax rates are scheduled to rise. Republicans want to extend the tax cuts permanently at all levels. The Democrats want to retain only those for families making up to $250,000.
"There was broad agreement that we need to work to get that resolved before the end of the year," Obama said. But, he added, "there's still differences about how to get there."
---